We shall see if I actually have time to throw together some gift guides before you guys have all completed your shopping, but I thought it would be easy enough to share a few of my favorite things. These are a few things that I am currently (or always) loving- things I wouldn't mind receiving as gifts myself (if I didn't already own them).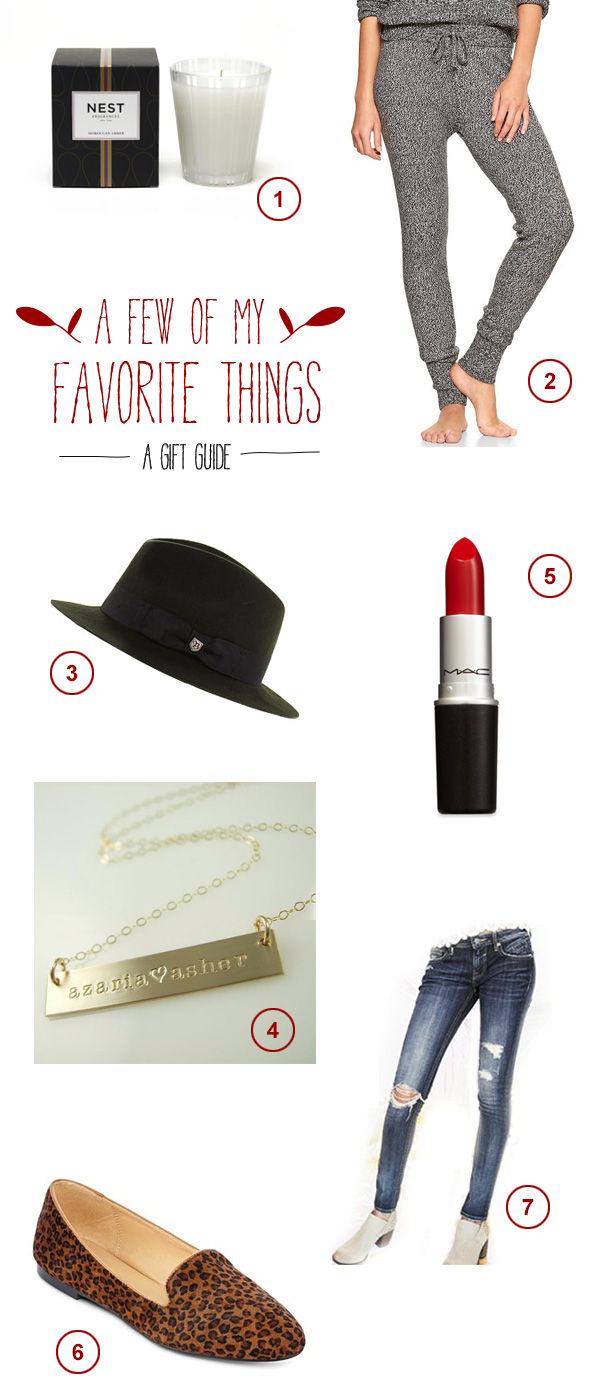 1. Moroccan Amber Classic Candle by Nest $34 -This candle smells heavenly, seems to last forever and is the perfect indulgent gift any time of year!
2. GAP Marled Leggings $45 – These lounge pants are to die for. They are heavenly. Believe it or not I actually bought Oliver a pair of sweats like this from baby gap and always thought to myself – "man! I want a pair like that!" Little did I know, Gap makes an adult version and they are even more luxurious than the baby version. Seriously, I could live in these.
3. Brixton Felt Fedora $75 (also available at Nordstroms) – I have been eyeballing a hat like this for some time. Luckily, I recently found this one and its the perfect amount of bohemian all year round.  Side Note: this hat claims to be charcoal, but if you ask me it looks olive green.
4. James Michelle Gold Bar Necklace $58 – I got mine to read "Oliver" and I'm pretty much obsessed with it. Makes a perfect new mom gift. Or get a favorite quote inscribed. For example 'Te Amo"
5. MAC satin Red lipstick $15 – This is a classic that every girl should have in her arsenal.
6. Joe Fresh leopard mohair loafers $40 – You would be surprised at the gems available at JCP these days. These loafers are great quality and rival the ones available at places like J.Crew at a fraction of the price.
7. Vigoss Destroyed Skinny Jeans $58 – I've been wanting a good pair of ripped skinnies. I had debated distressing a pair I already owned but didn't know which pair. So when I found these mid-range priced jeans at Nordstroms, I was pretty pleased! Love the way they fit and they are a great staple in my wardrobe lately. Definitely in heavy rotation.
Hope this might have given you some ideas for those on your list or maybe just some ideas of things to add to YOUR wishlist!