It's my opinion that most people buy way too much stuff for baby. When we told people we intended to stay in our tiny 500 and something square foot cottage after Oliver arrived, many of them thought we were kind of crazy. We knew it might be a little challenging, but definitely do-able. I thought I would share a few of the products that made it possible for us.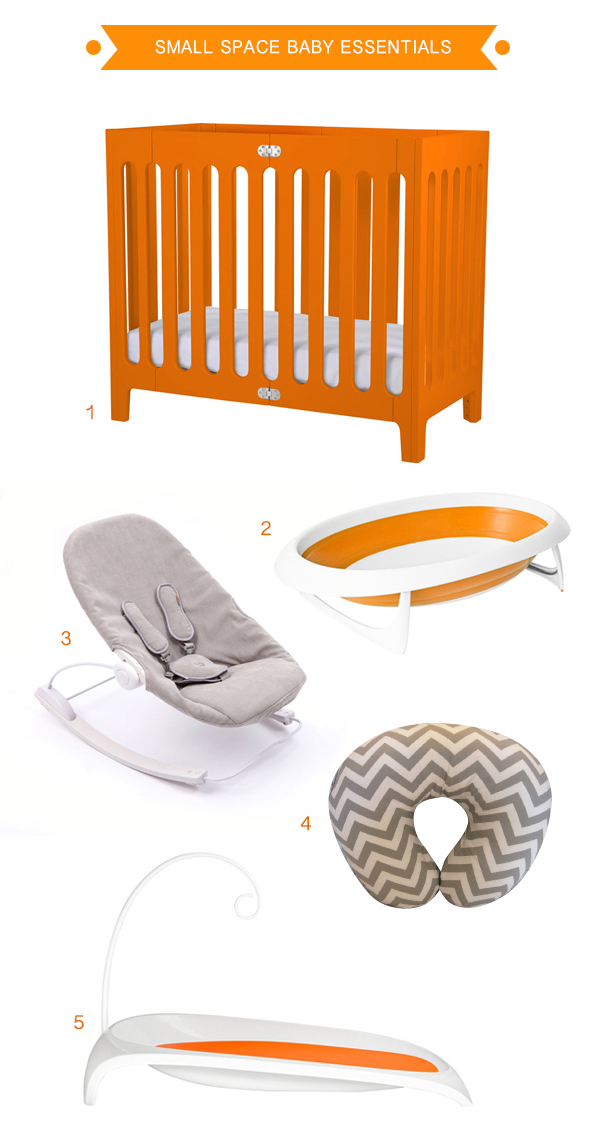 1. The Bloom Alma Mini Crib $340
comes in brown/orange/green/ gray/ white

This thing is perfect and has really been ideal in our small space. For one thing, the baby's room is very narrow. This crib is actually on wheels and narrow enough to easily pass through doorways from room to room. This has been great because in the early months as I am night nursing Oliver, we can have his crib right next to our bed and not take up too much more room than your standard co-sleeper. Then in the morning when we go out into the living room we simply roll the crib out with us. Who needs a pack n' play? (Downside: typically this crib only works for about a year+ or so depending on the size of your baby. It does not convert to a toddler bed and there for has a shorter life span. But for us, it works. Also, because it is a unique mattress size you are limited to buying very specific pricey sheets. Or you could make your own with this pattern I found on Pinterest)
2. Boon Naked Collapsible Bathtub $60comes in orange/teal/green
Forget the Puj tub, this Boon tub is where its at! It's sturdy, its simple and IT COLLAPSES TO FOLD FLAT! It has a hook so you can hang it in the shower to dry or store it behind a door or in a closet. We simply tuck it underneath our clawfoot tub!
This one is a bit pricey for what it is. And for the price, you could argue that you could get a bouncer that does a lot more. But what we love about this one is that 1. it folds flat and comes with a nice travel bag that you can store it in. 2. its not covered in obnoxious ugly "baby" patterns. One of my biggest pet peeves about baby stuff is how ugly it always is. Why does it have to be covered in cartoon characters? No thank you. I think the clean simplicity is key, especially in a small space. When living in a small space, so many of your things and babies things blend together and have to work in any room in the house. Also, did I mention it folds flat? In case you haven't noticed, that's a pretty big theme in our small space!
UPDATE: A friend gifted us the Baby Bjorn seat and I actually like it much better. It's one piece instead of two and still folds up flat. Even smaller than the Bloom.
Having a small space, my husband and I discussed quiet a bit what we needed and didn't need. He argued that we didn't need a boppy because "don't we have enough pillows?! Where is that thing gonna go? It's just going to stay out on the couch all the time?!". Yes, yes it is going to stay out on the couch all the time. I think the boppy is definitely a necessary item if you are breastfeeding. Nursing can wreak havoc on your back and anything that can make it easier is great! But to his point, do I really want it sitting out on the couch all the time covered in some dumb cartoon character print? No, no I don't. Enter the boppy slip cover. You can find a bunch of fabric options on etsy that will blend a lot better with your decor. This makes living with baby things in a small space much more bearable.
What I liked about this changing station was that it was SLIGHTLY smaller than most and fit on our smaller dresser top (just barely). I also found one of the more typical fabric covered foam cushion tops that would have barely fit but what I love about this one is that it wipes down clean! I cant tell you how many times a newborn will poop or pee right after you take their diaper off (sometimes more than once or twice)! So rather than have to strip off the cover and wash off the poop you can simple wipe this bad boy down and move on with your life. Or go back to sleep. Making things so much simpler!
Some of these items may be on the pricier side but for us, making our small space work means staying in an expensive neighborhood. So the pay off was worth it to us! Any other small space moms have items they recommend or cant live without?
by Gaelyn on August 5, 2013
Categories: Home, Kids, LIfe, Motherhood, Products 4 3