Inspired by this non maternity look I spotted on Pinterest I thought it would be fun to pair a crop tank with a maxi. To be honest, this is the only crop top I own. I mean. I'm thiry years old. It's kind of a wonder I own even one right? I used to wear this one over another tank pre-pregnancy and I thought it would be fun over the maxi today.
If you squint you can almost see the mama inscription and tiny diamond on my ring in the next shot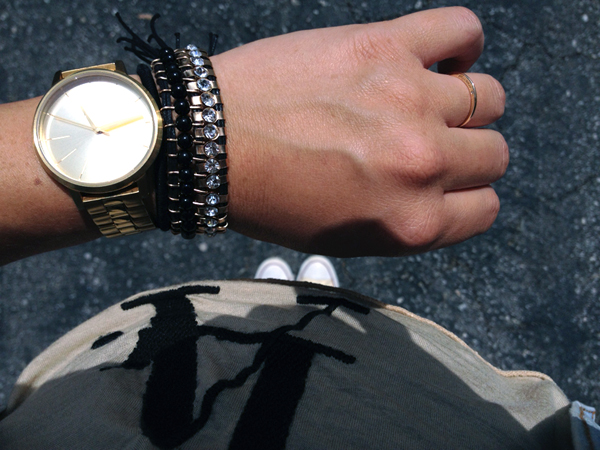 Pregnancy Status: 31 weeks (hello month 8!)
Outfit
Maxi: A GILT purchase
Embroidered L.A. Tank: Brandy Melville – full length version here
Denim Vest: Target (similar)
Shoes: Converse All Stars (unbleached) – This maxi is starting to get a little short thanks to the babe, so I actually think the converse look a little better than sandals with this one.
Watch: Nixon (The Kensington)
Bracelet: Target ($8)
Brass Arrow Earrings: These were a gift from John but I'm guessing etsy
by Gaelyn on May 10, 2013
Categories: 3rd Trimester, Fashion, Maternity Wear, outfit of the day, Pregnancy 1 1